Scooter and Wheelchair Lifts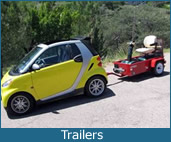 Looking for a way to transport your mobility scooter or power wheelchair? U.S. Medical Supplies of Lexington, KY carries a wide selection of vehicle mounted lifts that can fit any vehicle including cars, trucks, and SUVS. You can choose from among trailers, external and internal lifts that will make traveling with your mobility device a breeze.
In addition, we also offer Vertical Platform Lifts that can carry both you and your mobility device among different levels of your home or business. Overcome mobility obstacles with our affordable and versatile lifts!
Rest assured that all of our products come with extensive warranties and are built using the best quality components that will withstand years of use. To learn more, call or stop by our Lexington, KY store today!
Featured Products